Best 5 ways to apply for PR in Canada from India / How to apply for Canada PR from India 2022?
If anybody is thinking how to apply for PR in Canada from India then they are at right place because Phoenix GRS awarded as the best Canada Immigration Consultants in Bangalore, India. with highest success rate. If any one is looking to apply for Canada PR from India 2022 then please get in touch with us we are here to help you to achieve your dream.
In recent years, Canada has become the preferred destination for settling as a permanent resident. It is one of the easiest countries to get a PR visa and an absolute place to live and work.
Its excellent infrastructure, standard of living, available employment opportunities, and safe and peaceful society attract Universal immigration applicants. If you are looking to settle in Canada, the best 5 way is to apply for pr in canada from india, PR status allows you to live as well as work in Canada permanently.
Although the Canadian PR visa is permanent, the validity of the Canadian permanent residence visa is five years. The PR visa is not Canadian Citizenship; however, it provides you with the path to becoming a Canadian citizen.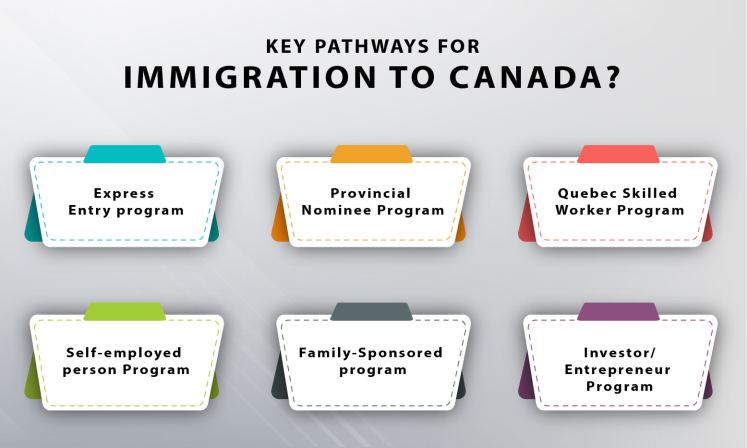 Vital Benefits of Permanent Residence in Canada

 
Here are some key benefits of permanent residence in Canada: 
Live, study, work or do business anywhere in Canada.

Applying for Canadian citizenship after living in Canada for three years and meeting other requirements. 

Sponsor entitled family members for Canadian PR.

Obtain free health care, school education, and other social benefits that a Canadian citizen receives. 
 To obtain the Canadian permanent resident visa, you must apply through the appropriate channel, eg. as a skilled worker or international student, etc.
How do I get a permanent residence visa (PR) for Canada or Migration process to Canada?

 
The Canadian government has designed various programs to obtain the Canadian permanent resident visa depending on the type of immigration or the category of immigrant. Since then, each program has different processes and requirements for applying for the PR visa; you will need to go through the immigration program application process for your case. 
Here are some popular programs to apply for permanent residence in Canada: 
Popular programs  to obtain Canada PR & Eligibility for PR in Canada 
Immigration, Refugees, and Citizenship Canada (IRCC) offer several immigration programs to obtain permanent residence in Canada. The most popular are: 
Express Entry Canada Program 

– Federal Skilled Worker Category – This is a points-based federal online immigration program, which allow qualified professionals to work and settle permanently , along with their family , anywhere in Canada .

Provincial Nominee Program (PNP) – PNP are immigration programs for Canadian provinces, which target and invite eligible professionals and businessmen 

Investor / Entrepreneur Program: This program is for entrepreneurs/investors looking to start a new business or invest in existing businesses in Canada.

Self-employed Program: A person with relevant experience can immigrate to Canada under the Self-employed Immigration Program 

Family Class Immigration: For Canadian PR to sponsor their family members
Applying for PR through the Business Immigration Program 
Canada offers permanent residency to entrepreneurs/investors interested in starting a new business or investing in an existing business in Canada. The Manitoba Provincial Nominee Program (MPNP) Business Investment stream (BRS) is essential for immigrating to Canada as an entrepreneur or investor.
Applying for PR in Canada as self-employed 
A foreign national, who has the appropriate experience, can be self-employed in Canada and contribute to the economy. The IRCC selects applicants based on the following standards: 
 The applicant has relevant experience i.e. 

 Has participated in cultural or sporting activities around the world or 

 The applicant is self-employed in cultural or sporting activities. 

 The applicant intends and has the capacity to be self-employed in Canada. 

 Meets program selection parameters and 
 In addition to the above, this candidate must also meet medical and safety requirements.
Applying for PR in Canada through Family sponsorship
 If you are 18 and a citizen or permanent resident of Canada, you can sponsor some relatives under the family class. The relative can be:
Your child (including an adopted child) or

Your spouse,

Your marital or common-law partner,

Other eligible relatives.

If a member of your family can become a permanent resident, they can live, work and study in Canada.
Eligibility requirements for a family visa sponsor
A sponsor must be 18 years of age and be a permanent resident or citizen of Canada

Demonstrate financially capable of supporting family members or dependents

The sponsor must agree to support family members for a certain period of time

The sponsor must be in Canada or intend to live

Should not be bankrupt

Should not be charged with a crime against him

Should not be subject to a removal order
How many points are required for Canada PR?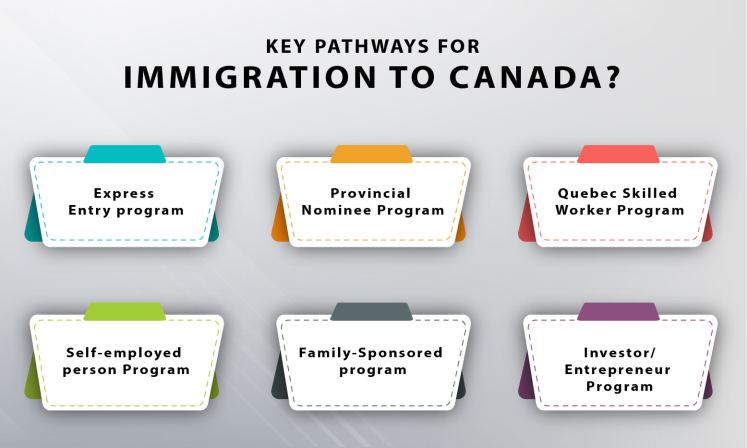 The minimum points eligibility for FSWP is 67. Those who scores below 67 points will not qualify. It must be noted here that basic eligibility factors score and CRS score are different.